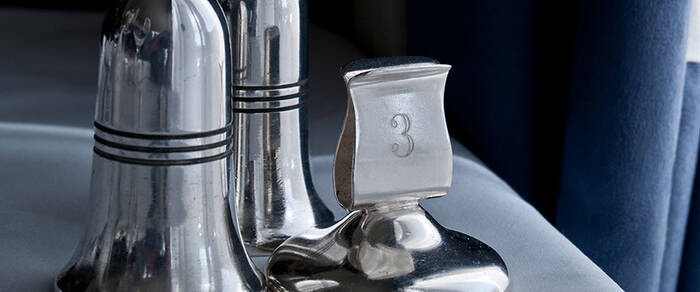 Behind the Scenes
Our daily commitment to ensuring your stay is a memorable one
Monday.... There's no better way to start the week than with a good old poke around the bins. The 120-odd bins in our wine cellar, that is, to stock up on liquid delights from around the world. Our wine list is lengthy and adventurous (especially for somewhere on the sleepy outer reaches of the British Isles), original and intriguing, rather than obvious and commercial. It's also spectacularly good value thanks to a pretty enlightened pricing policy, the affordable wines are great and the great wines affordable.
Tuesday.... We wash our monogrammed towels in house, which means the machines - washing and drying - never stop. Our Egyptian cotton bedding, linen napkins and table cloths are laundered off site, but delivered back in by lorry on Tuesdays and Friday. Our housekeeper checks each and every pack to ensure the folds are in the right places and every item is spotless (some task, given that every season we go through in the order of 15,000 pillow cases alone). Then some poor sole has to lug them up to the second floor linen room.
Wednesday.... Market day. Given concerns about the environment and domestic economy, sourcing locally makes huge sense. But seeking out the finest North Wales has to offer is also a matter of taste. We use local suppliers to find the freshest and best fish, meat and cheeses possible, and head of to market to squeeze, sniff and select fruit, vegetables and herbs for ourselves. Of course, we could just call the fishmonger in Llandudno, but it's much more fun to pop around in person. After all. what would you rather have in your hand? A freshly landed, line caught sea bass or a telephone?
Thursday.... Once a week we do al little bit of winding up. Winding up our two grandfather clocks and a slightly wayward cuckoo in the bar, whose idea of what marks the hour is a tad fluid. Just three of the antiques dotted around the oak panelled ground floor that we like to think lend character and authenticity, but in reality mean a whole lot of graft. There's the German art nouveau range, oak sideboard, a splendid (if not quite grand) piano, the bar, which is, in fact, a Welsh dresser. And brass, lots of brass. Possibly the biggest brass collection outside the Grimethorpe Colliery Band.
Friday.... While there are silk flower displays (you have to hyper observant to spot them), every other bloom is the real thing. We hand pick them on Friday mornings and the trim them to fit the bud vases that adorn every dining table and for other assorted displays that garland side boards and tables around the hotel. Friday is also gardening day, when we tend the flowerbeds and rose trees outside. While the garden is a lovely place from which to watch a small part of the world pass by, Llandudno is an even better place from which to explore the mountains, valleys and coastline of North Wales.
Saturday.... The grease in our dining room is strictly confined to the elbow, where on Saturdays it's deployed liberally on buffing up teapots and toast racks, salt cellars and pepper pots, oak panelling and the reassuringly heavy Sheffield steel cutlery. Then there are the daily tasks, such as steaming the each crystal wine glass to a sparkle, brushing the nap on our suede banquettes, folding linen napkins into silver napkin rings. And just before dinner each evening, manhandling (it takes two) the industrial slab of Welsh slate that serves as our cheese board into the dining room and lighting the candles on every table to lend just the right sense of occasion and warmth to proceedings.
Sunday.... Is not a day of rest. The small matter of keeping 66 bedrooms, landings, stairs and public areas spotless is a daily labour. But it is one that has been improved by our adoption of micro-fibre cleaning technology, pioneered to deal with oil slicks and now used in the Austrian health service. Special cloths allow us to clean anti-bacterially using cold water and without recourse to traditional 'cleaning' chemicals that are either harmful or else don't actually clean. Along with more energy efficient ovens, energy saving bulbs and boilers, we are reducing our carbon footprint from a great, big gallumping pair of size 12s to something far daintier.
Your satisfaction is our reward