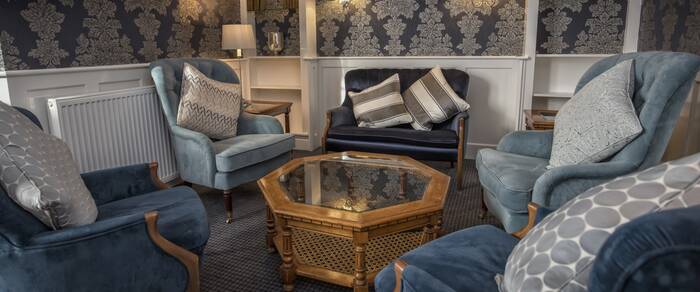 Groups
Information for tour operators, group organisers, FIT and corporate guests
We recognise that groups are a collection of individuals and treat them accordingly
At the Dunoon we are unreservedly old-fashioned about what a hotel should offer; warm hospitality, genuine quality and great value for money. Food and wine are our abiding passions and affordability our guiding principle. Our service is personal and attentive rather than fussy and overbearing.
Privately-owned with 66-bedrooms, the hotel is on Gloddaeth Avenue, conveniently located between the North and West shores of Llandudno. We have an AA four Star rating, while our restaurant has been awarded two AA Rosettes for culinary excellence. In 2019 we were recognised with a Gold Award from Visit Wales and received the Go North Wales Tourism Award for Best Hotel 2018. We have partnered Great Rail Journeys for the last ten years and have won at least one award from them in each of the last few years including Best Hotel, Best Service and Best Food Britain and Ireland. We have the top award for food from Saga. Our chefs change the menus every day and will happily cater for all dietary needs. We have many new bathrooms with walk-in showers and a lift to all floors.
The Dunoon is a wonderful base for groups visiting North Wales
We welcome many diverse groups during our season, but predominantly remain a hotel where individuals and couples holiday repeatedly. We recognise that groups are a collection of individuals and treat them accordingly. As such group customers will enjoy the same menus and standards of service as our regular guests, yet benefit from the added incentive of attractive reduced rates across the season. Should you join us in January to April or October to December, we would be able to offer further concessions.
Clough William Ellis's Italianate village at Portmerion is a must on any visit here, as are the magnificent castles of Caernarvon, Beaumaris and Conwy (the town it protects is a UNESCO World Heritage Site). Snowdonia is on our doorstep, its beauty, drama and adventure waiting to be explored, be it by mountain steam railway or on foot trekking its myriad trials. For those who enjoy a National Trust property, there is the world famous Bodnant Gardens. We also have the grandeur of Penryhn Castle with its railway museum or the elegant Plas Newydd, with its Rex Whistler collection and magnificent position on the shore of the Menai Strait. Erddig meanwhile charts 200 years of stately home life both upstairs and downstairs.
Snowdonia is on our doorstep, its beauty, drama and adventure waiting to be explored
Experienced in managing itineraries and planning events, we can offer various entertainments during your stay, from not-too-taxing quizzes to fire-side recitals with a pianist or talks on local history. Recent refurbishment has seen numerous bedrooms and bathrooms carefully and classically updated, as well as creating a further lounge space perfectly set for hosting drinks receptions, playing cards or simply winding down prior to a good night's rest following dinner. Our hotel is suitable for both the young and old, with 4 family rooms, over 30 rooms having walk-in showers, and, two further rooms with accessible wet rooms of differing configuration.
We would be delighted to hear from you if we can help you this year. We still have some summer availability and also dates in autumn. Furthermore should you wish to discuss provisional plans for 2023/2024 or have any questions more generally regarding the hotel, please do not hesitate to contact us.
Our group customers enjoy the same menus and standards of service as our regular guests