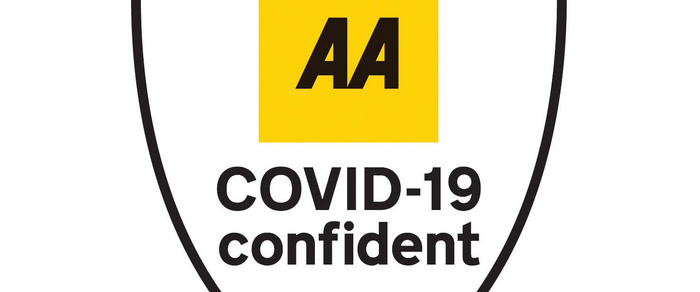 Stay Safe
Procedures and protocols to create a safe space for everybody
What we are doing to make you feel at ease and at home
Keep Safe at the Dunoon Hotel
2022
The Dunoon will be a space in which everybody can feel at home and at ease. As one of the leading hotels in Wales, we have always been about best practice; today best practice means ensuring a safe holiday experience, but also one that is still personal and a pleasure.
Here we outline in general terms the steps we are taking to minimise the risks associated with the potential transmission of Covid-19. There is a long and very detailed checklist specifying daily action points that cover every aspect of a guest's stay and the tasks that we must perform to create a safe environment for guests and each other. What follows represents a high-level overview with some examples of the procedures and protocols that we are adopting. They reflect the current guidelines issued by UK Hospitality in conjunction with the government and, as such, are likely to evolve as government guidelines change.
Our procedures and protocols can be broadly grouped under five thematic headings: distancing, cleaning and hygiene regimes, operational changes, PPE and customer and staff communication. There is also a specific protocol that applies should someone develop symptoms of Covid-19 while on the premises. We deal with each one in turn.
1. Distancing
Wales continues to operate according to the 2m distancing guideline and wherever practically possible we are taking steps to ensure this can be maintained in the hotel. These include:
Signage and markings to remind guests and staff.
Staggered check-ins and check-outs.
Temporary closure of public rooms.
Remote ordering by room telephone.
Pre-ordering of certain meals and the introduction of private dining in the first instance and then distanced dining in a shared space as the regulations relax.
The principle governing all these and the many other measures we are introducing is to minimise face-to-face contact whilst maintaining high levels of service and hospitality.
2. Cleaning and Hygiene

We are introducing extensive additional cleaning procedures to protect both guests and staff. These will include:
Strategically placed sanitising stations throughout the building to minimise transmission from common touch points, eg lift buttons and door handles.
Widespread use of only certified cleaning agents.
A requirement that guests are not present whilst rooms are being cleaned.
Detailed, deep cleaning of rooms between lettings.
Additional and regular cleaning of common areas, eg landings, stairs and hallways.
Specific cleaning procedures apply in rooms where someone who has tested positive for Covid-19 has stayed.
3. Operational Changes
Guests will notice certain changes in our service provision, which will include:
Capture of additional information prior to arrival at the hotel to speed up check-in (eg first night dinner pre-order, any special requests, information for Track and Trace, confirmation of self-certification that they are virus-free).
Restriction of lift usage to one bedroom/social unit each time.
The general migration of service requests from face-to-face contact at reception to remote communication over the telephone.
4. PPE
Whilst widespread use of PPE is not being encouraged in non-medical settings, you may see certain members of staff wearing face masks and/or gloves. This is partly to provide a visual prompt for vigilance and good practice, as well as and extra level of protection for housekeeping staff whilst in bedrooms and waiting on staff when serving food. Kitchen staff will wear masks and gloves while preparing and serving food, as will
5. Communication
At every stage of the booking process, we will explain what we are doing and how you can help us, culminating in a virtual check-in at least 24 hours prior to arrival. Once in the hotel, there will be visual and verbal prompts to remind everybody to maintain distancing and promote good hygiene.
Whilst we will be taking every step possible to minimise risks and to keep guests and staff protected, we rely on everyone's goodwill and co-operation in making the necessary adjustments to help us create a clean and safe environment. As owners of a private hotel we reserve the right to require anyone not exercising due caution to leave.